Snorkel Instructor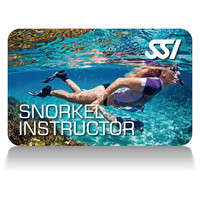 Duration: 1 Days (approx.)
Location: Fitzroy Island, Queensland
Product code: PZUPFN
Course Description
The SSI Snorkeling Instructor program is intended to provide candidates with the knowledge and training necessary to conduct entry-level snorkeling programs in a safe and enjoyable manner.

Prerequisites
· Minimum 18 years old
Inclusions:
· SSI Course materials
· Instructor Trainer
· Lunches
· All equipment

· Pool Fees

· Accommodation (subject to availability)
Exclusions:

· Ferry to and from Fitzroy Island (optional- can be completed in pool)

If candidate wants to obtain professional SSI Status, they require:
· SSI Professional Fee (approximately $99) to be paid directly to SSI
· AS2299 Medical

· First Aid (offered at Scubabo)

· Oxygen Administration (offered at Scubabo)

· CPR (offered at Scubabo)

Duration: 1 day
Price: $600

Found this course in the region for cheaper? We will beat it. That's the Scubabo price guarantee.